Description
Notes:
(1) We suggest you to buy a SIM card to enjoy our professional GPS Tracking, Live Streaming, Remote to control Engine Cut-Off. If you do not want to buy a SIM card, you can also take our JC200 EdgeCam Pro as a normal recorder.
(2) Please check your local 3G network band firstly before your purchasing. The SIM card just need to support one band is enough. 3G WCDMA: 850/900/1900/2100 2G GSM:850/900/1800/1900
(3)Supports Language:
We are very happy to tell that our platform–support the language of 22 countries and can add more if you need. English, Spanish, Portuguese, Polish, Vietnamese, German, Arabic, Russian, Persian, Bengali, Indonesian, Thai, Italian, Swedish, French, Latvian, Israeli, Turkey, Romania, Czech Republic, Slovakia, and Chinese.
ZASCO Recommend —JC200 EdgeCam Pro Professional Car Network Solution
JC200 EdgeCam Pro wil be a crucial tool for ensuring safety on the road and guarding against illegal activity. With clear 1080p HD video recording at 30 frames per second on a wide angle 140 degree lens, JC200 is able to get every detail. It will automatically detect collisions and save those video files for later so you do not lose them. For anyone who spends a fair amount of time traveling on the road, it is a must own product.
1)[DUAL CAR DASH CAM INWARD AND FRONT] – A sturdy dashboard camera to record inside and outside, deviced by the FHD 1080P front car camera with 140° adjustable viewing angle to capture front road and license plates clearly; and the inside car cam with light sensor & IR night vision produces crystal clear video to know events inside the car, fits for Uber ,Lyft or Taxi
2)[LIVE VIDEO & MONITOR ON WEB AND APP] – High-speed data transferring of 3G or WiFi dash cam, supporting live streaming In-car or front-car via APP and Web, remotely monitoring car's status at anytime anywhere (remotely playback the TF card video / remotely video and photo, real-time snapshot)
3)[PROFESSIONAL VEHICLE GPS TRACKER] – ZASCO JC200 car driving recorder comes with more functional and professional gps tracking system, GPS locating accuracy < 10m, support 3D Street Viewing and multiple alarms like SOS / Vibration / Voice/ Enter or Exit geo-fence/ Power On&Off / Enter or Exit GPS blind zone/Overspeed / Engine On&Off / Low battery..etc 27 kinds of intelligent alerts, let your car fully under the 24h/365 days continous protections
4)[SEAMLESS LOOP RECORDING & G-SENSOR] – Seamless loop recording overwrites the oldest footage with the newest upon filling a card to capacity. Variable sensitivity G-sensor auto detects a sudden shake/collision and emergency locks the footage to "Event File" to prevent that video from an overwrite.  JC200 vehicle dash cam supports up to 32GB microSD cards, recommend to use samsung evo card.
5)[TOTAL PEACE OF MIND W/ 12 MONTH WARRANTY ] – Full 12m Warranty, email replies within 24H, and 100% Satisfaction Guarantee. Pay less auto insurance, your witness for accidents and insurance claims. Perfect dual lens car cam for uber, taxis, rideshare, lyft drivers, commuters, and families. ZASCO JC200 dashboard recording camera works with 12V and 24V car, truck, semi truck, bus, suvs, or big rig
Remote Interior & Exterior Monitoring
Car front monitoring: Open our App Tracksolid to easily find your car. Car Inside monitoring: Real-time monitoring, lock-in car evidence, your car safe guard.
What Can JC200 EdgeCam Pro Do For You
You can take our APP to protect you car. Just click positioning to find your car anytime anywhere. When someone pry your car, you can get a alarm timely. When we meet a dangerous , we can press SOS button for 3 seconds to ask for help. Finally, when we find sometime is stealing a car, we can send command to take oil cut-off. All we do is to let your lovely car get professional protection.
1)3G Surfing Network Anytime Anywhere
Just add one SIM card can make you JC200 connect to the internet easily. Our JC200 support 2G/3G data transmission. Support network band as follow: 3G WCDMA: 850/900/1900/2100 2G GSM:850/900/1800/1900 Makes your dvr surfing internet, anytime, anywhere. Please Notice: please check your local network band firstly before your purchasing. Thank you.
2)Android 4.4 systems, Quad Core CPU
The Quad core 1.2GHZ High performance processor incorporates Android 4.4 smart systems. it makes our JC200 runs more quickly. Our JC200 provide open Api service, it can meet your reasonable OEM/ODM needs. If you need OEM/ODM service, please contact us and leave your message, our colleague will contact you as soon as possible.
3)Mediatek Intelligence Chipset
Our JC200 EdgeCam Pro adopt high-performance processing chipest-MTK6582. Let our JC200 can be more resistant to high temperatures, will run more quickly, smoothly and stably. Give us a better product experience.
4)6 All-Glass Lenses,Dual Cam Simultaneously Recording
High temperature resistant matenals used to withstand various surveillance conditions.The 6-layer all-glass lenses ensures high resolution images with excellent color balance for day and night care. This Car DVR has two cameras that allows for simultaneously recording videos from two different angles. Front with 140 Degree,Back with 120 Degree. Attention: Touch your phone to switch Back camera. It can display on one screen at the same time.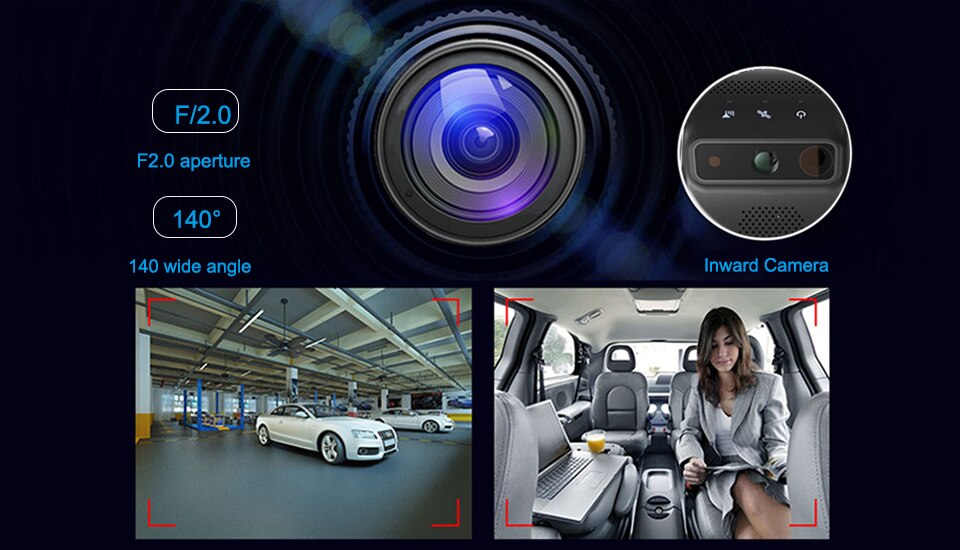 5)Full 3-lane Coverage
In order to reduced blind spots, our JC200 use a 140° ultra wide angle all-glass lens,which monitors 3 lanes comfortably. This camera is highly sensitive,enabling accurate and detailed capture recordings.
6)Professional GPS Tracking
After you have our JC200, you can use our our professional platform. Realtime tracking, Driving history playback, Report, Geo-Fence, Mlultiple alarms.We are all waiting for you!
7)Vibration Alarm
When the ACC is on, alarm and indicators will stop immediately. When the ACC is off, 5 minutes delay and vibration alarm will be turned on. If vibration detected, device will alarm in 10s. Let you care your lovely car easily.
8)SOS Emergency Calling
Firstly, set the SOS number by APP. In emergency case, we can press SOS button for 3 seconds to activate SOS alarm. Then the device will send SOS SMS to pre-set the 3 SOS numbers and then dial the numbers in circles until one of them is answered.
9) Ignition Cut-off
When the phone receives an abnormal alarm, we can send oil cut-off command on our platform or APP. To make sure the security of vehicle, tracker can only indicate to cut off oil when GPS is in valid position status, and the speed is less than 20km/h.
10)Fleet Management
If you have bulk vehicles need to management at one account, our JC200 is your good choice.After you use our platform, you can track up to 10000 devices on a single account. It is convenient for you to monitor all you camera in one time.
11)Other Functions
Built-in G-Sensor When in emergency brake or collision, the built-in G-sensor can sense such serious impact and it starts the auto video. Then locks the video of the process of accident. The instantaneous video can be the evidence of an accident. WDR(Wide Dynamic Range) Our JC200 have wide dynamic image processing technology, WDR is a high technoly applied to car camera, no matter in the shadow, glare, reflection, backlight and other environments. The image on the camera is still clear. Loop Recording Video footage will be saved in TF card every 3minuters. Normally, footage are saved in DVRMEDIA/CarRecorder/GENERAL(main camera).When SD card is full, previous records will be overwritten. Help you do not miss any scenery.
6. Smart & Professional Tracking Platform –
After more than ten years of development and expansion,there have nearly five million users using our professional platform -We are very happy to tell that It support the language of 22 countries now and can add more if you need. We can customize Logo / Domain name / APP with some charge. We can also offer open API to connect to your server.
1)Real-time Tracking
On the monitor, we can grasp the current situation of the device in real time location.We can also see the Device name, Telephone, IMEI number, Location time.Show Street map, Satellite imagery, Ranging, Regional vehicle routing.
2)History Route Playback
We can view the history route of our device up to 6 months when we playback. Help us change our lifestyle about driving habits, fuel saving, environment friendly. Easily grasp where the vehicle has been there..
3)Safety Boundaries Geo-fence
We can set up a geofence for the tracker device to restrict its movements within a district. The unit will send SMS to the authorized numbers when it goes out of this district.
            ZASCO JC200 INSTALLATION METHOD VIDEO